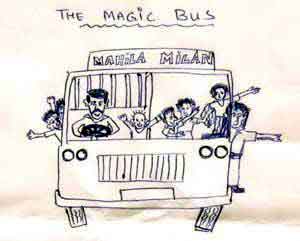 THE MAGIC BUS (James, one of the caretakers tells the story of how new boys get to learn about and join the night shelters)

Early January 2000, the much awaited hype of our decade was very different for a certain population of our city. Mahila Milan had just acquired a bus and in January they even got a driver – Anthony! This bus was about to be run on the roads of Mumbai. From the high rise buildings of uptown thru the suburbs upto Andheri. The speciality of this journey was that the bus was plying the roads inside-out in search of the street merchants?..? yeah! The Sadak chaaps of Mumbai - some already had scars to show (like the soldiers in battle) while others were like ducks in a crocodile swamp still (new on the streets and very much innocent).

These boys were met by a group of older Sadak Chaap boys along with the experienced Mr. Kumar (our project co-ordinator and Sudarshan (an old Sadak Chaap) . This bus carried food, medical supplies and its passengers. All main hangouts of our cities lost children were reached. These street children were free to hop onto the magic bus or skip the ride. Over the month the bus began to fill up so much that one watching from the sidewalks and other vehicles could see the bus pass by with hands, faces poking out the windows. The bus had to make a regular halt near Charni Road - Chowpatty so that the boys could cool off in the arabian sea. By the end of 2 months the Magic Bus and its crew had managed to make contact with more than 300 street children of which now over 100 have decided to make the Churchgate night shelter their base. The others come and go still wary of why this bus comes and goes and till they make up their minds and trust the night shelters. They still remain a part of thousands of street merchants out there in the city.



BRINGING UP FATHER'S !

People used to call Bonnie, me and Kumar father's of these kid's, even all the boys look up to us as their guardians or give us the pedestal with 'father' stamped on it. But I see quite a few of the older street boys who actually hold this certificate. Almost nine months ago a small fellow aged maybe 5 1/2 years or 6 yrs was found lost or abandoned near Churchgate Station. He was brought to the shelter by the street kids who found him. Krishna an 18 year old boy was his teacher, right from brushing his teeth, bathing, washing his clothes. All the boys used to call him the father of Kailash. When after 2 months nobody came to claim him (as was the case with "Kasim" a 6 year old whose parents came searching for him after 2 months) Kailash moved to Mulund (the recluse of the street kids who are very small when we first make contact with them and also those kids who want to learn to sign their own names rather than a thumb impression). Only a few months back it was "Tapan", who you'll have heard off earlier. Tapu as we all call him today has a father or "Baap" too and this is Gopal, grown up with Sadak Chaap. He is our street contact boy, he works on the outreach programme and "Tapu" is one of his son's. Another one of Gopal's sons was Kiran (12 yrs). Today Kiran is back with his real parents after being with the federation for 3 long yrs. Gopal looked afer Kiran in good/bad times and when Gopal had lost his job with the Bisleri water bottle distributor, it was Kiran (who from ragpicking in Nariman Point to Churchgate, landed a job in the Churchgate subway at the Pepsi Outlet) who supported Gopal.

Indeed we can learn from these souls, that even in a metropolitan city such as Bombay, which is always surprising it's inhabitants, we still have hope, only we need to look?.- closer (to our hearts)
James


This month marked a sad day in Sadak Chaap, probably we come across such days so often in our daily lives thro' the telev., papers etc., that we've stopped thinking over it, yes 'death', but here, it is remembered at s.c.

Last year April 30th, Narasimha Devappa - real name "Hanumanta" aged 17years, died of a complicated case of intestinal tuberculosis (Koch's deseases)

His death always comes back to my mind. I remembered the call I got at my residence, the boys told me that his condition had worsened. There were so many holidays that week and the weekend too was near. Without naming any hospitals we decided to get him admitted again, as the hospital handling his case would not admit him, we tried different medical centres, finally (I had a lot of help from Amrita a student of Sophia's college (Psycology/Sociology) who had volunteered to work in her vacations)

We got the Head of Medicine of a renowned government hospital who signed the admission papers (without that we probably would have been trying the whole night - due to different hospitals having different protocols). There was Mohammed (then a 15 year old) with me, who know most of these hospitals by now because he always followed me wherever. After all this anxiety, the next morning Mohammed calls me from the hospital to tell me that the boy had died. Seems like the everyday story that you probably read, and it is, but when you are there going thro' it, then it seems a total different issue. To come back to 'life' ?. That day.

We had a tough time convincing the police that we were the gaurdians alas the rules that we have are not to be broken and so Narsimha/Hanumanta was incinerated as a "Lawaaris" a "John Doe" nobody. Just like that..... he did have a family but that was a longtime back, he left home too early an age, no trace? that?s the 'everyday story' of most of the cases we get to know about ? but then again,??
Who cares it does happen so often that we stop looking or bothering anymore.

The federation will have to face up more issues like this one, but I hope the boys din't lose hope; as we've seen so often in these "merchants of the streets" lives, that their strengths lie in their characters, can we learn a few lessons there???
James